Entry of Jan 12, 2005 at 03:15 [EST]
From: Timothy J. Javins -

Comments: Son of Doris Brown, Everett Javins, Brother of Mike, Joe, Dan, Paul, Mary Ann. Joseph and Daniel have entries here. Named after my great grandfather T.J. Buckley. Known as Irish / German decent. Always heard may be part American Indian and / or English. Always thought the English started when Mary Ann fell in Love with the Beatles, but now see there may be some truth in it.
For sure came from the " hills of W. V.A. " Hillbilly's ? which I have always held as a honorable boast. Would like to know if any one else has some same traits..... I find my self relaxing and always twitching my big toe. I feel it comes from ancestors possibly relaxing / semi - sleeping on a river bank with a string and some bait attached to a hook to provoke a fish to bite. Please let me know if this is trait of West V.A. Again, I am proud to boast of being from the " hills ". I would fit in, although I live in Fresno, ca. now.
Sincerely, T.J. Javins
---
Entry of Jan 12, 2005 at 03:50 [EST]
From: timothy again
Comments: I find it interesting to see many of the same names passed on thru the Javins families. Many names that are here are in my immediate family also.
---
Entry of Jan 12, 2005 at 18:52 [EST]
From: Mary Ann Javins
Comments: I am Mary Ann (Javins) Holman. I am the daughter of Everett Javins, sister to Michael, Joseph, Daniel, Paul & Timothy John (T.J.) Javins.
I have done sporadic searches of Javins' relatives with little success ever since I was in college. That is where I discovered the English link to our family name. Also the multiple spellings of Javins and a French spelling of Jefon.
I did contact an aunt (sister to my dad), Louise, I think her name was. She still lived in Racine, WV at that time (mid)70's). I also was contacted by a distant cousin, Linda (I think) who lived in VA if I remember correctly. She knew my dad's sister well. Unfortunately I have lost her email addy & have since changed mine.
This is a great site for gathering all sorts of information.
---
Entry of Jan 15, 2005 at 11:35 [EST]
From: Paul Javins -
Comments: Well the Javins now has its own website finily! Its good to see. My father Everet lived in the hills of W.V and had a sister who was a manager of a nursing home in Charleston I forget her name. My father always said that we had Indian blood somewhere long ago. I am the Big brother of Mary Ann and Tim or (T.J. Javins) My Brother Dan stated that he found our name dating back to the 1500's in England after a battle. The person was taken to a hospital to be treated which his name was recorded. The the next date was in the 1700's in W.V.
I know if you look at the address of people with the Javins name many still live or are from W.V or Ohio. Which stands to reason.
Well Tim I hope you catch a fish and it does'nt pull you big toe off.
Paul E. Javins From Wisconsin (Home of the Packers) Who lost agin!
---
Entry of Mar 10, 2005 at 13:36 [EST]
From: Ashley LeDawna McCallister - nite_ash@yahoo.com
Comments: My name is Ashley McCallister but , in a short story ..I have never met my father his name is Clifton Ford. McCallister his mother's name was Ethel Javins, I was in contact with her many years ago as a child. I am 23yrs of age now.. I have a family of my own.. And I am interested about my family geneology.. If anyone has any info to the family contact me please... I know my family of Javins originates or so that I know of stood in W.Va where I am originally from.. St.Albans, Charleston.. Ect ect..
---
Entry of Apr 29, 2005 at 09:32 [EST]
From: Jack R Javins - fshon78@aol.com
Comments: I am living in Nitro, WV. My grandfather's name was Joe, I believe he is the son Jackson W. Javins from Boone county, WV.
---
Entry of Apr 30, 2005 at 20:56 [EST]
From: Charles Kinder - b.kinder2@verizon.net
Comments: Daniel Javins Jr. married the widow of John Henry Kinder. Her maiden name was Margarget (Peggy Gompton) Compton.Peggy's mother was captured by Miami indians. She had Peggy who was fathered by an indian. John Kinder was also captured by indians, met Peggy and they were married. they had twins named John Jr and Barbara and perhaps a third child. After John died in an indian raid Peggy married Daniel Javins Jr and they had a number of children. Thus we have both Javin and Kinders from Boone county (WV) with indian blood. Thats my story and I am sticking to it.
---
Entry of May 16, 2005 at 23:29 [EST]
From: rena (walker) donovan - rdonovan@gtmc.net
Comments: isn't there some connection of the javins,kinder, walkers of the nellis, boone co area. i am a downline of craig walker sr of fork creek boone co. craig walker sr , to craig jr, to charles fitch, to lummie cleveland, to sidney walker---all walkers of the nellis, ridgeview area of boone county, wv ... thanks rena
---
Entry of Jun 03, 2005 at 00:04 [EST]
From: georgina jeavons - georginaxxj@yahoo.co.uk
Comments: just looking or trying to find out where my family name originated from i never hear the name jeavons in england so i wondered if it was from america
---
Entry of Sep 8, 2005 at 13:36 [EST]
From: Bill Javins - BILLJAVINS@aol.com
Comments: My name is William Ray Javins (Bill)
I live in Nitro WV. My dads name was Alfred Javins from Racine WV. My dads dad name was Ira Javins from Nellis WV.
see ya, bill
---
From: Andrea Javins - breakingbenjamin89@sbcglobal.net
Comments: hi my name is andrea javins. I live in reynoldsburg, ohio. My dads name is james javins who grew up in elizabeth west virgina near parkersburg. I just happend to stumble across this website and i thought it was really cool to know there are more javins's out there. so i thought i would write to you and say hello. please dont hesitate to write me back.
---
For comments prior to 2005, Click Here.

---
Entry of Jan 17, 2006
From:Gayle Javens jlamont@kooee.com.au
Comments: Hi there I am Gayle JAVENS great granddaughter of Hollingworth and Eliza Javens.would love to hear from more JAVENS`S contact me on jlamont@kooee.com.au
---
Entry of May 1, 2006
From: momio40@msn.com
Comments:
I am from the Javens side of the family and the PA. part of the U.S.A. they are as follows:
James C. Javens 9-1929
Ira Javens 7-1900 wife Idella Brenneman
George B.C.Javens 11-1876 wife Arabelle Hendrickson
George William Javens 1849? or 1852 Born PA wife Eliza Stuck
George Javens 1826 wife Susanah Smith
Joseph Javens-1798 wife Hannah
John Javens 1767 wife unknown
I would love to find the tie in to our families from the south. My father was told as a child that two French brothers came over in the 1600's to Jamestown and went into the woods. His side ended up in the rural area of PA.
Does this sound familiar to anyone? Can you help me?
---
Entry of May 3, 2006
From:Angie Angieh1667@aol.com
Comments:
my name is angela (javins) hermance i am descended from mary javins who was descended from william ray javins and that is how far back i go. my uncle in west virginia has been holding a annual javins family reunion.
---
Entry of May 7, 2006
From:Linda ljavins@aol.com
Comments:
I found mention of one Theo Javins on ImmigrantShips.net. It says
JAVINS, THEO, 273 - SS Henry Chauncey 1868
Theo Javins -- 26 M Engineer -- U States U States 2nd Cabin (crew member)
---
Entry of May 10, 2006
From:M.Javins M.javins@mchsi.com
Comments:
is Joe Javins the brother of Rex Javins that Jack Javins posted ?

---
Entry of May 23, 2006
From:Kelly Cook KCook37963@aol.com
Comments:

hello my name is kelly cook, and i was born and raised in briery branch. my wife is a desendent of edward s. javins his father was james javins, his father was edward javins.and we live on part of the land bought by the javins around 1860 give or take. we would like to know of any desends with the javins name, because here in the branch the name is gone.we have pitcures of the javins famly from the 1800's.Thanks .If you have any information or know someone we could talk to it would be greatly appreciated.
---
Entry of June 8, 2006
From:Ronald K Javins Ron.Javins@eon-us.com
Comments:

My name is Ronald K(letter only) Javins my brothers and sisters are Robert Ray Javins, Carlos Gene Javins, Marylin Javins. And sister Carolyn Javins. My mother, Dorothy Martin Married my father George Thomas Javins from West Virginia in Louisville, Kentucky. I do not know my sisters mother or where she was born. My father and mother have both passed on.
---
Entry of June 23, 2006
From:Jimmy Javins BIJJCJ@aol.com
Comments:

My name is James C. Javins Jr. my father's name is James C. Javins Sr. son of Bill Javins from W.VA. I am looking for historical information and/or starting a family tree for my children. I have three daughters, and one brother Michael and one sister, Keitha Ann and they have no children. We all live in Groveport, Ohio but we have an uncle in Nitro, W.VA. and his name is Billy Javins. My Grandfather, Bill Javins Sr. passed away in 1992. Please email me any information anytime, it would be nice to hear from other Javins!
---
Entry of June 25, 2006
From:Your hostess Linda ljavins@aol.com
Comments:

The 1850 Census index Alexandria VA lists a number of people with the Javins surname.
---

Entry of July 16, 2006
From:Marilyn marilyn@mrpinfo.com
Comments:

I am looking for relatives of Rader Javins of Irwin PA. My mother, Donna Lou Saunders, may have been a Javins. Her birth is a little sketchy. She was born to Helen Moberly of Huntington, WV. and somehow related to Rader Javins, Peggy White and Billie Hicks. I have just found letters from them having made the connection with my mother in the early 1970's. Do you have any information on any of these names?
Thanks so much!
---

Entry of July 17, 2006
From: Linda ljavins@aol.com
Comments:

Descendants of Daniel Watts Javins, check out this Harless genealogy page which mentions Daniel and his relatives.
---

Entry of Nov. 18, 2006
From:s-mey@care2.com
Comments:

I was born a w.v. javins and was told all my life that javins was scots-irish protestant....and that was me. well many of my friends were interested in heraldry and geneology, some of them even from ireland and scotland and all agreed in telling me- no there is not any javins family name from ireland or scotland. i felt misled by my parents and was very disappointed. i just went on yet it bothered me....its my surname shouldnt i know the truth of where its roots rest. West Virginia!!!-and that most certainly is true especially after 4-5 + generations and i salute all who smile in the comfort and assurance of that indeed. your 100% right on! yet i ended up finding out a bit more. i currently live in israel married to an israeli jewish man and upon my 1st trip here i noticed an old squirlly looking blue eyed man in the hallway of our apt. building. my husband told me he was a "JAVINS" from poland who migrated here. years later i moved to the north of israel in the golan heights and discovered on one of the older kibbutz there are about 5-6 different javins/javinski families all from an eastern european ( askenazi jewish descent).i have not had the oppurtunity to go and speak with any of them yet perhaps in the spring i will return to their area and do so. javins is appearently a somewhat common israeli name, funny- suprize,who'd of ever thought...
---

Entry of Dec. 8, 2006
From:ljavins@aol.com
Comments:

Virginia Javinses may want to check the Obituary Index to the Alexandria Gazette for names starting with J published by the Alexandria Library. Also see the 1850 Census Index for Alexandria which includes a number of Javins names.
Entry of Jul. 2, 2008
From: Gerri Mitchell
Comments:
Saw your webpage while looking for anything pertainng to the family name Javins.
My paternal grandmother was a Hattie Clyde Javins from McDowell County in WV. She married a W.J. Vannoy and lived out her life in the McDowell County/Mercer County area. I always heard the name is Jewish. Do you have any information you can share with me?
Thanks so much,
Gerri Vannoy Mitchell
Entry of Mar. 28, 2009
From: Gene Javins
Comments:
My official name is William Eugene Javins and I will share with you all I know or have heard about the name and my family. My grandfather was William Calvert Javins he married Nancy Mercer from Gallipolis Ohio. They had two son together named Billy Eugene Javins (my father) and James Calvert Javins. Prior to their marriage my grandmother had to daughters who assumed the Javins name or so I was told. Grace was the oldest who passed away as Grace Hornsby and Madeline was the the youngest and I do not remember her married name.
My grand father was a pipe fitter and spent time over seas doing work, but eventually moved to the Kanawha Valley in Charleston WV and retired from I believe Union Carbide. My father and his 3 siblings grew up in South Charleston WV.
I know my grandfather had a brother names Radar Javins whom was married to Arlene and they lived mainly in PA but moved to southern WV before they passed away. I do not remember them having children. I remember a very tall, thin man who lived in Huntington WV that my father told me was my great uncle but I cannot remember his name. I know my grandfather had a sister named Peggy White who lived in either the Columbus OH area or the Erie PA area.
My father had two sons with his first wife, and they were William Grant Javins and Steven Eugene Javins, he also had a daughter named Cathy. He had 1 son from his second marriage whom he does not claim and his name is Charles Michael Javins. William Grant Javins is known as Billy and live in Knoxville TN where he grew up. Steven Eugene Javins resides in Louisville KY where he retired from the army at. Cathy became Cathy Funk where they have recently returned to the Knoxville area. Charles Michael lives in Louisville KY. William grant has two sons who carries the Javins name, Steve has two sons who carries the name I have two sons who carries the name and Charlie has one son who carries the name. I currently live in the Charleston WV area and have been a Nitro Police Officer since 1990.
My uncle James Calvert Javins has two sons and all of them live in the Columbus OH area.
I do remember (early 1980's) my uncle Radar telling me and showing me a family tree linking the first Javins in America to General Lafayette from France.
if you have any questions I can probably get them answered for you. My mother has a lot of thing from the 1930's and 1940's that i could possibly look though form my fathers side of the family.
I know there is several Javins families posting from the Nitro WV area but as far as I know I am not related to them unless it is 4 generations in the past or may even be more distant than that.
---
Entry of Apr. 14, 2009
From:Linda ljavins@aol.com
Comments:
Google Books is a fascinating place to search for mention of a particular name. There I found in The papers of George Washington (University Press of Virginia), a mention of one Joseph Javins, who paid for some cattle. The papers also state that Joseph Javins of Fairfax County died intestate in 1760, probably in June, and two of Washington's overseers were among those appointed to inventory his estate.
---
Entry of Apr. 16, 2009
From:Marilyn Hager
Comments:
To Gene:
We are related through our grandfather, William Calvert Javins' rascally bloodlines. My mother was born to Helen Moberly in 1929 out of wedlock. My mother, Donna Moberly Saunders, didn't learn until in the 1970s that her real father was William Calvert Javins when her Aunt Peggy White and Uncle Radar Javins contacted and subsequently visited her.
My mother was very short and petite (4'11"). I am tall for the rest of my family at 5'7".
---
Entry of July 27 2009
From:Kristin (Javins) Gibbs
Comments:
I am writing to give you the information I have regarding our own immediate family. It seems it is common that the Javins family does not communicate or keep in touch very well, so I do not have a tremendous amount to add, but maybe the dots will be connected somewhere.
I am the daughter of Ralph William Javins II who grew up in the Virginia area somewhere. He was married to Gayle Patricia Conner-Brown and they had three children in Yakima, WA. Myself, Kristin Ann, Carol (Cari) Ann, and Timothy Paul. They have since divorced. My father was previously married and had one son, Mark, who now lives in New Zealand. We keep in touch on occasion, but not as often as I'd like. Too many miles. J I married in 1992 to D. Matthew Gibbs. We now have five girls, Regan, Ashlyn, Madelyn, Erin, and Kearan. My sister, Cari, is not currently married. She goes by the last name of Jacobs. She lives in Oregon. My brother, Timothy, also lives in the Yakima area. He is married and has one son, Timothy Paul Javins II. My sister ran into a young man in Portland, Oregon a few years back, working in a sporting goods store, but was too shy to ask any questions. His last name was Javins. I also understand there are Javinses in California, but my father would not give me more information other than that. We have a bit of a strange relationship, if you can call it that.
That's basically what I know. I hope that helps in some way. Thank you for your web site.
---
Entry of Aug. 2009
From:Charlotte Huffman
Comments:
Here is some information that we have in our family research -James Madison and Margaret Jean (Carroll) Shafer were my g-grandparents on my father's side, his parents were George Clifton and Annie Margaret (Javins) Huffman, my parents are Charles Samuel & Bessie Mae (Schilling) Huffman (mom passed away this past March), all of the great state of Virginia. Good luck with your continuing search.
Spelling of this particular last name takes the following forms; Shafer, (Shaffier) or (Shaver) you will find this last named spelled three different ways there may be a 4th spelling with an extra 'a' thrown in after the 'ff' but this is rare. The 2nd name researched in this part of the family tree is Javins.
Lucilla Jean Shafer Javins
Born Mar 1879, Died in a house fire 1905
Married Charles Stewart.
She was one of the daughters of Margaret Jean Carroll Shafer who married James Madison Shafer. (Please note that Margaret Jean Carroll Shafer once had the last name CARROL. This was not a middle name as some believe. Some indicate that her name was Maggie Carol. This is not accurate when used as a first and middle name, it was when using the nick-name of "Maggie" for Margaret and Carroll for her last name.) Margaret Jean Carroll Shafer came to Bath County, Virginia with her family from Madison County, Virginia. Margaret Jean Carroll Shafer was born November 1848. Died October 23, 1906 from an accidental knife wound.
James Madison Shafer was born April 3, 1858 in Augusta County, Virginia. He died June 1, 1928. During his life he lived in Bath County and Highland County Virginia.
[PLEASE NOTE THE USE OF THESE ABREVATIONS: (dob = date of birth dod = date of death)]
1. Jacob Shaffer, Sr. Mulendorf, Germany, Born December 30, 1728, Died May 9, 1815: (Settled in Shenandoah County, VA)
o Wife: Otilla dob-? dod December 2, 1831
o Children of this Union: (5)

Elizabeth

George

Jacob, Jr.

Frederick

Daniel
2. Jacob Shaffer, Jr, dob 1763 dod ? (Shenandoah County, VA)
o Wife: Mary Pence dob ? dod ?
o Children of this Union: (6)

Barbara

Phillip

Abraham

Catherine

James

Soloman
3. Daniel Shaffer dob ? dod ?
o Wife: Elizabeth Michael dob ? dod?
o Children of this Union: (11)

William Bell Shaffer

Susanne

David

Benjamin

Daniel

Elizabeth

Mary

Catherine

Hannaha

_____

Abraham
4. William Bell Shaffer dob: December 1807, dod: July 1892
o Wife: Katherine Crum dob: August 16, 1809,
dod: December 1892
Both buried in the cemetery of St. Pauls Lutheran Church, North River Gap, Stokesville, Virginia.
o Children of this Union: (10)

David Bell

Mary

John

Susan

Katherine

Elsie

Barbara

Frama Ellen

Hannaha
5. David Bell Shaffer, dob: Jan. 30, 1831, dod: March 1, 1909
o Wife: Elizabeth Ditamore - Date of Marriage 1850 Shenandoah County, Virginia.
o Elizabeth- dob: March 29, 1831, dod: June 11, 1913.
o Children of this Union: (5)

Sharah

John M.

George M.

James Madison

Katherine (Katherine married a Lindsey)
6. James Madison Shaffer dob: April 3, 1858, dod: June 1, 1928
o Wife: Margaret Jean Carroll Shaffer dob: November 1848, dod: October 23, 1906. Margaret was also known as "Maggie" Jean Carroll and was called 'Star Baby' by her husband James. This was a pet name which he gave her. She was Native American.
o Children of this Union:

Pearle E. Shaffer -Married John Hise

Lucy E. Shaffer dob: 1879 dod: June 1905

James and Margaret may have had a son born by the name of George, however, he died at a very young age.
Margaret Jean Carroll Shaffer had one child before she married James Madison. The child's name was Mary Carroll. Mary married Daniel Wolfe. I (Charles S. Huffman, g-grandson of James Madison and Margaret (Maggie) knew two of their children Knewt (Newt) and Dewy Wolfe. I don't know anything more about the Wolfe family.
7. Lucy E. Shafer - dob: 1879, dod: 1905
o Married: Charles Stewart Javins
o Children of this Union: (1)
Edward Snowden Javins 1842 to 1911 was born in the Alexandria, Virginia area. He was in the Confederate Artillery during the Civil War under the command of Captain Delaware Kemper, the Unit at 1st Manassas, Sharpsburg and earned special mention from General Pierce G. T. Beauregard service at Manassas. There was a Randolph and a William Javins in the same outfit as Snowden Javins. Kemper's battery was integrated into Virginia Heavy Artillery-Battalion E, 18th Virginia Regiment.
Edward Snowden migrated to Rockingham County after the Civil War. He married Julie Ann Curry in 1865. Julie Ann was born in 1838. At the time of their marriage Edward was 28 years old and Julie was 30 years old).
o Children of this Union: (4)
James W.

Charles Stewart

Mary Lavern

Mattie Virginia
James W. married Sally Propst
Charles Stewart married Lucy Jean Shafer
Mary Lavern married Robert Howdyshell
Mattie Virginia married John Todd.
Charles Stewart and Lucy Jean had three children; James Edward (Ned) who never married, George William Javins, and Annie Margaret Javins who married George Clifton Huffman and settled in Briery Branch, Virginia (Rockingham County).
George William Javins married Pearle Shaver
o Children of this Union: (6)

Annie Primrose

Florence Marie

Georgia Margaret

Catherine Cleopos

Odela Mae

George Austin
---
Entry of March. 2010
From: Darrin Cooper
Comments:

I am a descendant from the Javins side of the family. Charles S. Javins' daughter, Annie Margaret Javins married George Clifton Huffman. That was my Grandma's mom and dad. He was killed at an early age. I am trying to find out more information on the Javins linage including what Charles Javins' wife's name was.
Please let me know if you have any more information or can point me in the right direction. Thanks.

---
Entry of Oct. 2, 2010
From: Stephanie Newman
Comments:
I have attached a photo taken on 9/3/1910 in Deerfield, Portage, Ohio on the farm of Joseph W. Taggart, and his wife, Adora Javens Taggart.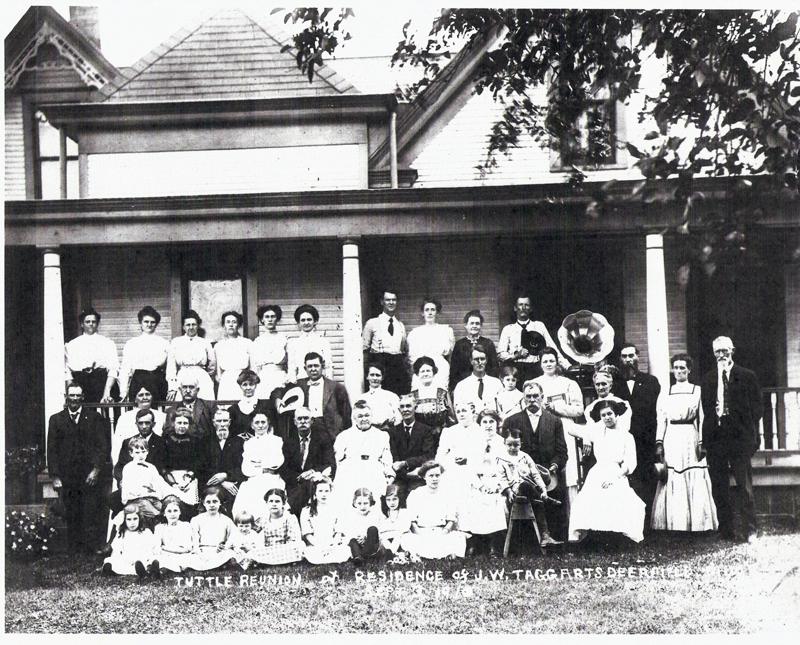 Adora Javens was the daughter of the illusive William Javens of Beaver County, PA, and Mary Ann, "Polly" Tuttle Javens.
I'm the genealogist for this branch of the Taggart family, as I grew up in the home of one of the girls in the attached photo.
I'm upset I didn't have Hazel Taggart Cory (1900-1996) write down the people she knew in the photo. She told me many times who these people were, and she corresponded with many of them for years, but I was a child, and I can't remember - so, any help from the Javens family would be appreciated!
To the left of the Victrola are Joseph Wesley Taggart, his wife, Adora Javens Taggart, their daughter-in-law, Mary Edwards Taggart, her husband, and J.W. and Adora Taggart's second son, Charles Medley Taggart, Sr.
Second row from bottom, left, William Taggart (J.W. and Adora's eldest child, 1st son, child on his lap is Charles M. Taggart, Jr. To the left of them is Blanche Smith Taggart, William Taggart's wife.
Bottom row, 6th child from left is Hazel Taggart (1900-1996), in whose home I grew up. She married Charles Russell Cory, Sr. of Bloomfield and Tiffin, Ohio.
The background information on this reunion is thus: Adora's mother's maiden name was Tuttle, and her paternal great-grandfather was John Tuttle (1763-1828). He was a veteran of the Revolutionary War. The Jewell family married in to the Tuttle family when John Tuttle's eldest daughter, Sarah Broad Tuttle, married James Jewell. The families met at several reunions over the years.
So, the surnames of people in the photo would be Taggart, Jewell, and possibly Javens and Tuttle.
I've got some information for those members of the Javens family who are looking for information about the illusive William Tuttle who was born in about 1820 in Beaver County, PA. I contacted the Beaver County Genealogy and History Center. I received information that he died 7/18/1855. He died without a will, and the estate was liquidated in March of 1856.
Their son, James Javens eventually settled in, and died in Gratiot County, Michigan. I found his obituary, and it was mentioned that the family moved to Jeffersonville, Indiana in 1856. The timing of the liquidation of the estate fits with the year of the move.
I found that their son, William, died during the Civil War a little over 2 weeks from his enlistment.
I'm going to contact the History Center this week, as I'm interested in copies of the land deeds, and also want to ask if a death certificate exists which might shed light upon William Javens parents' names.
I hope the information I've provided is helpful, and I hope the Javens family members might be able to identify people in the photo.
With kindest regards,
Stephanie Newman
Farmington Hills, Michigan
---
Entry of Oct. 4, 2010
From: Annie Louise Bass
Comments:
I am Annie Louise Bass, my step father was Harry Daniel Javins, his family was from Charleston, W. Va. His father was Ralph William Javins. I may not had been born a Javins, but we went by his name, he was a father to us, the only father we new. 1 of his brother was married to Barbara Javins now clarly, or something like that. I just got in touch with her awhile ago. He has a brother name Bill Javins that is still living in W.Va. He also has a sister name Patsy Javins ?? she was the only girl and the baby. Please let me no if you no any of my family.
---
Entry of Oct. 26, 2010
From: Diana Kay Stone
Comments:
My name is Diana Kay Stone (Petry), born Charleston, WV. My father is Dalls Dale Javins. He and my mother Norma Jean Petry were not married. I would like some information on my father's family if anyone knows them. Thanks!
---
Entry of Feb. 7, 2011
From: Otis
Comments:
I ran accross your site by accident while trying to look up info on my mother. My name is Otis Austin, my fathers name was John Austin. He passed away in1981 or 1982, he was 76 years old My mother died when I was a baby.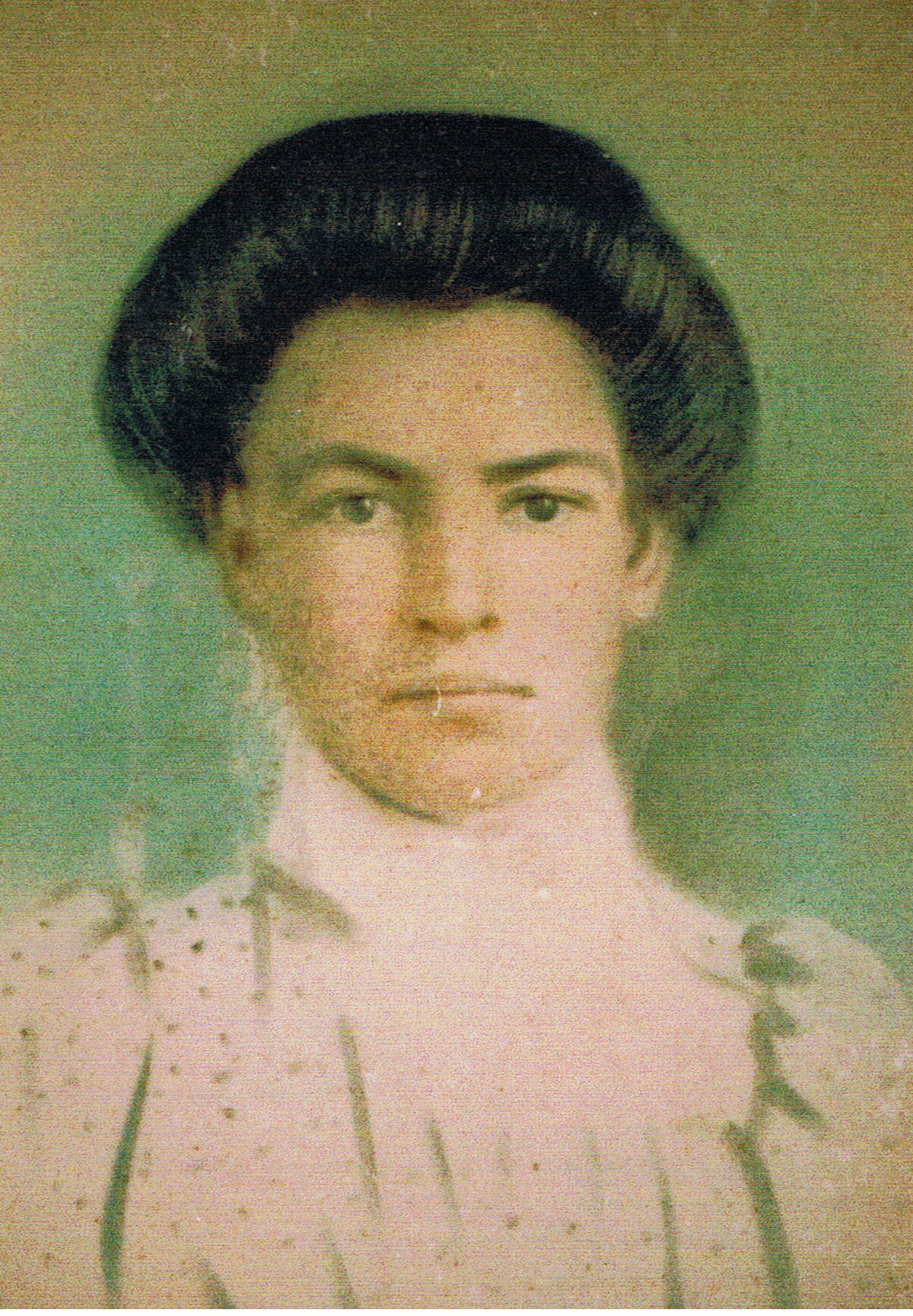 Mike Shaffier took this picture of a painting and said he was informed that this is my great great great great grandmother.
I want some help please please if anybody knows where Florence Javins Austin is buried. My sister i never knew is buried next to her.

---
Entry of Feb. 8, 2011
From: Linda
Comments:
Florence Javins Austin was buried in Bath County, VA. My older daughter put Otis in touch with her dad, Florence's brother, and he will give him more details. Glad that we could help!
---
Entry of Feb. 17, 2011
From: Linda
Comments:
If someone is descended from Andrew and Addie Javins, check out this bio of Harry Javins on the History of Virginia website. I came across this and thought it might be of interest to the West Virginia Javinses.
---
Entry of Apr. 11, 2011
From: William McDonald Javins, Charleston, WV
Comments:
I came across your web site some how and was particularly interested in an entry from an Annie Louise Javins dated Oct. 4, 2010. She described my family and I am willing to fill in some blanks for her if I can make contact with her. I am the youngest son of the Bill Javins she mentioned, and yes, I'm yet another Bill Javins. I have an older brother named David and we both have memories of Uncle (Harry) Dan's family when they lived near Charleston on Sugar Creek and later in Georgia. My mom and Dad (Bill and Lorraine) visited with Uncle Dan in Atlanta right up to the time shortly before he died. Mom (Lorraine) passed away in 2003, but Dad is still alive and has fairly clear memory of family details.

Harry Daniel's dad was Ralph William Javins and his mother was Nora (Chatfield) Javins. In addition to Bill he had brothers named Paul (from Oakland, CA), Hilpert (from Canton, OH), Jim (from Titusville, FL and Albuquerque, NM). Their sister is Patsy (Javins) Linger. All the brothers are deceased except for Bill. I would be glad to share with Annie Louise all information I have about our branch of the family. I can give her some information that goes back three or four generations before Ralph William.

Thanks for your web site. I have bookmarked it and will return from time to time.
---
NEW! Comments after April 2011 (Now in Blog Format)
For Comments prior to 2005, Click Here
Javins.com | Marie Javins's blog
Linda's Blog: The View from Squirrel Ridge